Autism on the Job! Working with autism.
Our special service 'Autism on the Job' focuses on guiding people with autism in business. Based on our passion, we pay a lot of attention to finding the 'perfect match' between clients and candidates. With the right guidance and the creation of a stable workplace, people with autism form great added value for various companies and organizations.
Working with autism
As many as 54% of people that have autism and average to high intelligence are unemployed. Although more and more companies are starting to see the qualities of people with autism, there are still many prejudices. That is a missed opportunity, because people with autism often have a certain level of knowledge and specific skills that are extremely suitable for positions in the field of ICT and Life Sciences.
We have already experienced the added value of this target group. As a specialist in the field of recruitment and selection for ICT, we see many opportunities for this target group. Especially now that we are struggling with a shortage on the labour market, while the ICT sector is growing strongly, we see the demand for this target group increasing heavily. In addition to the added value that employees with autism can offer, it is also socially responsible for employers! A real "win-win" situation for both parties.
Autism works with the help of our services
Together with our specialized partners, employers and employees, we are able to create a stable working environment. This often depends on various factors that in turn influence the performance of the candidate. Our services are therefore aimed at guiding both the employer and the employee to coordinate these factors as well as possible.
We do this through four different parts. In addition to special attention for the recruitment of the candidate and finding the right workplace, we also offer partner training and peer review at the workplace. These different parts are shown in the figure. A description is given for each part.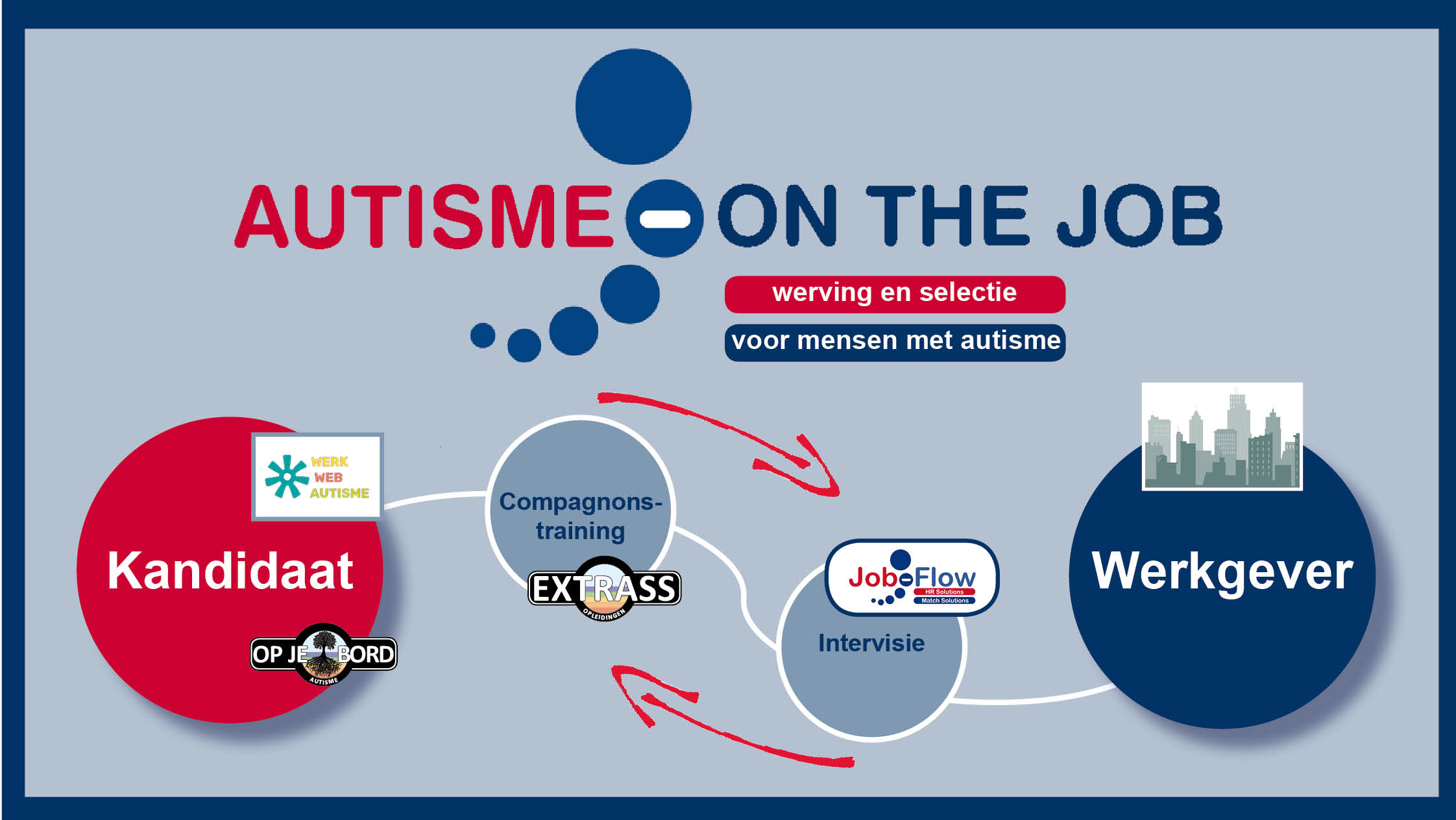 Curious what we can do for you?
Don't hesitate and contact us now!